My mom recently celebrated a
milestone birthday and my sister
and I wanted to make something
for her that was better than the
average pair of house slippers.
We decided on a family tree.
I combined different elements from
several ideas I've seen and this is
what we came up with.
I am SO, SO pleased with how this
turned out...and it was honestly very easy.
The entire project too under 2 hours...
from printing photos to clean up!
You can make one too.
Here's a simple step by step.
If you'd like more details or
have questions, just email me.
I used various sized circle punches
for the photos and other filler circles.
Some of the photos took a try or two
to get them the right size to punch out.
Then I free-hand cut the grass/landscape
and tree trunk from scrapbook paper.
Here's one tip. I laid the entire thing out
on the canvas then picked up each piece
and glued it so I didn't loose the overall
layout - since things obviously fit just right.
Here's a close up of the details.
And, in case you were wondering,
my mom l.o.v.e.d this gift.
I think she'll treasure it.
My grandfather even chipped in
and sent me photos of he and my
grandmother while they were dating
and of my great grandparents
(whom I was lucky enough to know!).
To tell you the truth,
I cherish this project too.
I'll be making one for us soon.
You should make one too...
great Christmas gift idea!
I'm happy to be sharing this as
part of Heather's "Life Made Lovely"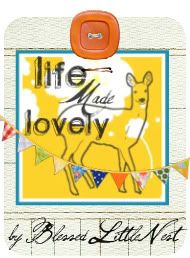 And over at Today's Creative Blog: